Providing bespoke development services and product design, development and maintenance.
Targetfour have been providing bespoke development services, as well as designing, developing and maintaining our client's products for over 30 years.
We specialise in developing solutions for IBM z/OS and for Microsoft Windows technologies.
We have our own dedicated IBM zSeries mainframes, providing client solutions running batch systems and Transaction Server (CICS) applications, mainly written in COBOL and IBM assembler.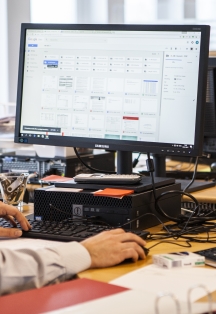 On Microsoft technologies, we have vast experience of developing systems in C# and VB. We have developed systems for desktop, web and back-end server, including Windows Services, Microsoft SQL and ASP.NET.
Whether its mainframe batch applications or transaction services, web applications or back-end server solutions, Targetfour has the experience to deliver solutions that meet the client's needs.